ProFease

TM
ProFeaseTM is a fully featured feasibility tool that provides professionals with fast, high quality and defensible GSHP system savings and performance estimates. These estimates enable clients to determine if moving forward with a GSHP mechanical system is practical and feasible, without spending $10,000 or more for a detailed energy study, mechanical viability comparison, life cycle cost analysis, or other intense, expensive vetting assessment. How ProFeaseTM Works: To use the tool, the user selects the project's geographic location and building type and then inputs the square footage of the conditioned space. GeoFease then generates an hourly building simulation energy model for the project. The user then has the option to select from a variety of energy efficiency measures such as low E glass and energy recovery ventilators. This selection updates the hourly building simulation energy model for your project. Next, the user can quickly input a few key variables (soil thermal conductivity, land area available, etc.) related to the loop field and then calculate/simulate the loop field performance based on the hourly energy model. Upon completion of the simulation, the user can review results including complete project economic and energy costs as well as carbon dioxide emissions reductions. The user completes the feasibility assessment by printing out a professional and customized color report for sharing with the client.
Economic and Carbon Analyses: With engineering, it's all about the money and the CO2: what it will cost versus what it will save. The ProFeaseTM automated economic analysis integrates costs (hardware, GHX, selected enhanced energy efficiency technologies, heating and cooling operational costs, etc.) as well as incentives (federal, state and utility, etc.) and CO2 emissions. Based on these results, ProFeaseTM automatically determines ROI, NPV, simple payback, and CO2 emissions reductions, the four industry-standard analysis tools for feasibility studies.
Customized Reports: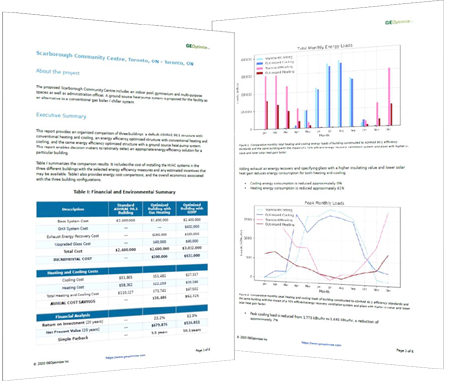 Download Sample Report
ProFeaseTM Report
ProFeaseTM automatically generates beautiful, customizable, professional, full-color and comprehensive reports that the user can share immediately with clients. In addition to being able to add their own customized logos and websites to the reports, users can input their own customized text introductions and conclusions. Additionally, users can specify the financial modeling time periods for the reports as well as the various economic analysis inputs such as the discount rate and fuel inflation rates.
Building Types and Locations: With ProFeaseTM, users have access to thousands of hourly energy models for common building types across North America and a growing list of other countries. New energy models and building types are added regularly to our comprehensive and growing database. This database allows designers to quickly and accurately determine the feasibility of a geothermal project for a wide range of building types and geographic locations. Contact us if you would like us to add particular hourly energy models for your project.
GHX Optimization: ProFeaseTM uses an advanced ground heat exchanger (GHX) simulation engine that is an industry-standard in the commercial geothermal HVAC engineering community. Users can input critical design variables such as thermal conductivity, bore field geometry, borehole depth, borehole spacing, available area and heat pump efficiency and then the simulation engine calculates the loopfield design and fluid temperatures that the ground heat exchanger can produce based on the customized GHX. ProFeaseTM of course also calculates system installation costs. Users have the option of iterating to optimize the loop field automatically or manually.
Note that profease is not a loopfield engineering design tool. ProFeaseTM results are invaluable for feasibility-level assessments but should not be used for full/final loopfield designs.
ProFeaseTM also provides users with curated access to the most experienced and qualified geothermal system designers in the world for more detailed and customized feasibility studies, system designs, installations and controls optimization.
To get started with a ProFeaseTM subscription, you can select your options and make a purchase from the button below.